What you get
Pure performance.
With Cell tweeters, pure ceramic midrange and sandwich bass by Accuton, Getz 2 sounds as good as it looks.
The tweeter uses pioneering technology to achieve diamond-like performance. Combined with the signature ceramic drivers they produce distortion-free sound that is exceptionally detailed and transparent with a large, attractive soundstage.
The sandwich bass unit delivers power and control over lower frequencies. A custom-made aluminium passive radiator delivers a more even, controlled bass and creates a realistic, full-bodied sonic performance.
3-way passive radiator
Mundorf enhanced crossover
Accuton Cell tweeters
"The tweeter uses pioneering technology to achieve diamond-like performance."
Leif Olofsson | Chief Designer, Marten
Ceramic domes
Advanced technology for natural sound.
Hard ceramic is light, yet extremely rigid, making it one of the best materials for speaker membranes – it's also known as Sapphire. 
Our ceramic domes have a high internal damping factor, because of a refined electrochemical process. The membrane also has a high material resonance frequency, meaning distortion is minimal; offering a level of clarity that is the holy grail for high end speaker domes.
Bass drivers
Low frequencies.
Low distortion.
The Cell bass driver units have long excursion, extremely low distortion levels and a hidden surround. Made of Aluminium sandwich honeycomb, the drivers offer rich, dynamic bass performance with a powerful presentation.
Cabinets
Crafted for strength.
We use specially selected, medium-density fibreboard with optimum rigidity to create high-quality, resonance-free cabinets. 
The shape and dimensions of the cabinet have been carefully considered to deal with reflections from the drivers: giving low resonance and diffraction control. The internal structure and bracing keep the cabinet rigid and resonance-free. 
Each cabinet is finished with precision veneer and lacquering. The lacquer is carefully built up of 7 layers, each hand-polished in between drying.
Internal wiring
Premium cables for purer sound.
We use Jorma Design internal wiring, for its exemplary quality and performance. Handmade in Sweden, the cables use separate + and – for enhanced shielding and the highest quality Copper.
This offers natural, transparent sound; the perfect choice for our speakers.
Cables are integral components, so they must work harmoniously with our precision design and build. Jorma Design delivers exactly what a Marten speaker demands.
FEET
Levels of isolation
Designed for Marten, the pucks and cones are made from high-tech engineering thermoplastic. This material has incredible stiffness, low friction, excellent dimensional stability and resonance control. A perfect balance of qualities needed for precision parts.
Our pucks and cones offer great isolation and outstanding performance from our speakers.
Crossover
Low order for
high dynamics.
We prefer to use lower order crossovers, as the higher order crossovers tend to limit the dynamics and details. Our second order crossover has been creatively designed to make the best of the dynamic range.
Copper foil air core coils
Silver/Gold capacitors
Supreme resistors
Jorma internal cabling
"With its classic proportions, this 3-way model is an exercise in refinement."
Leif Olofsson | Chief Designer, Marten
Finishes
All models have high finish, veneered and lacquered cabinets.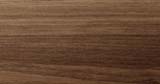 Matte Walnut
Piano Walnut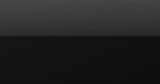 Piano Black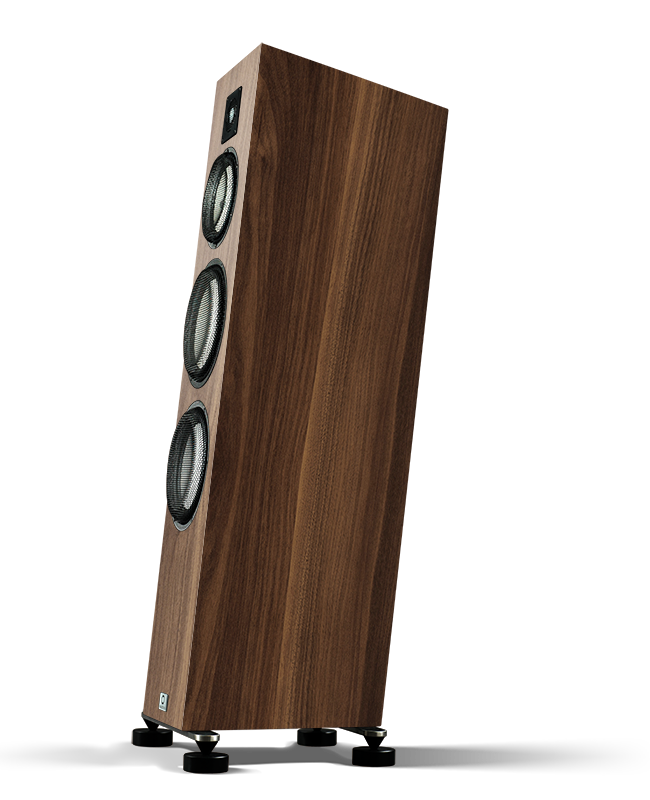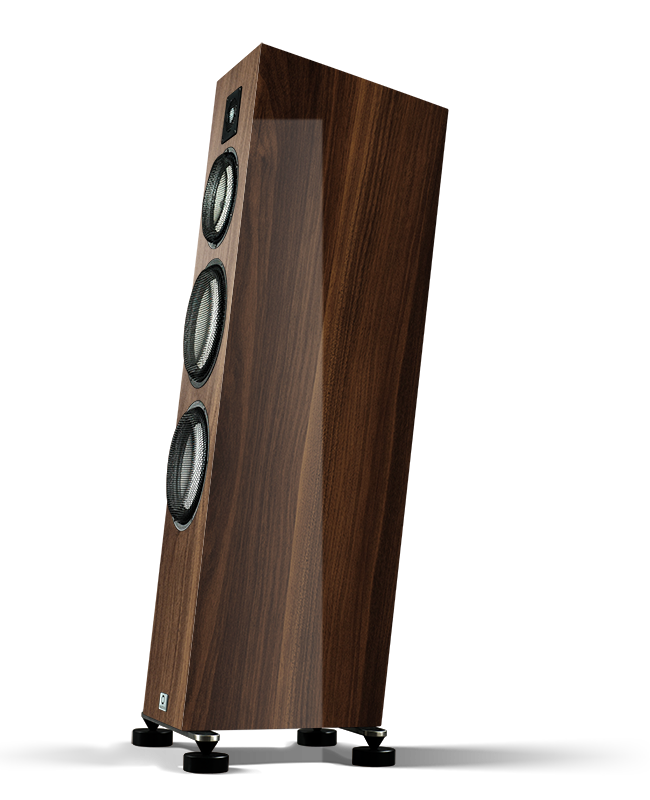 Speaker (front)
1 x 9 " Ceramic sandwich
1 x 9 " Aluminium (passive)
1 x 7 " Ceramic
1 x 1 " Ceramic
Frequency range
28-40000 Hz +-3dB
Power rating
250 W
Sensitivity
87 dB / 2.83V
Impedance
4 ohm (3.7 Ohm min)
Type
3-way passive radiator
Crossover frequency
Second order: 250 & 3000 Hz
Components
Low loss copper foil coils and silver/gold in oil capacitors
Terminals
Single-wiring WBT
Internal wiring
Jorma Design
Cabinet
23 mm:s veneered MDF
Stands
Steel stands with Marten cones and pucks
Dimensions W x H x D
25 x 116 x 35 cm (9.8 x 45.7 x 13.8 ")
Net weight
34 Kg (76 lbs)