I would like to receive emails about
Marten products, events, music and culture.
Marten - speakers for high-end home systems.

Marten make speakers that enhance the way you experience your home. Our aim is to close the gap between the live and home listening experience: letting you relive your finest musical moments. Our speakers are proudly designed and crafted in Sweden, using exclusive technology and fine materials.
I would like to receive emails about
Marten products, events, music and culture.
Mingus Septet
In the driver's seat.
Mingus Septet has arrived. The new 4-way model features seven drivers and a newly designed crossover to deliver the signature Mingus full-range sound, elevated to even greater heights.
In recent years of R&D, we have concentrated our design efforts on producing drivers that work harmoniously with our established crossover system. Mingus Septet is the result of this search. Featuring two new custom drivers designed by Marten, the crystal-clear, dynamic range is now super-charged by a 1" diamond tweeter and a 3" beryllium midrange driver.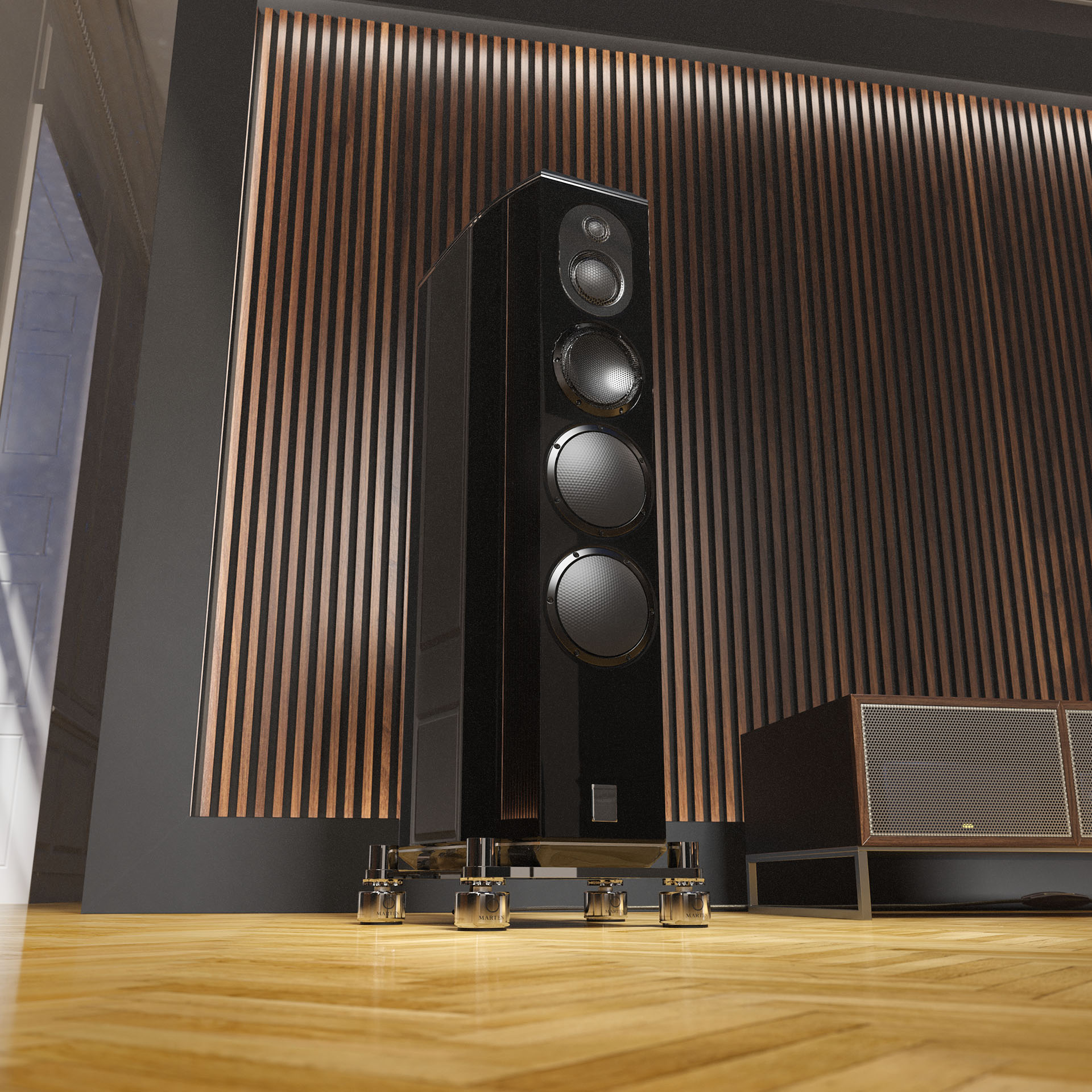 Super-massive talent.
Mingus Septet shares the signature characteristics of the other models in the Mingus series, but with each tower weighing in at 95kg, it's a true heavyweight. The build of this model allows many improvements, including a wider dynamic range, enhanced soundstage and deep, controlled bass response.
Up close
Tweeter
Precision design.
We have always trusted diamond tweeters for clarity of sound in the higher frequencies, so it felt only natural to design our own, custom-made to maximise the potential of our first order crossover.
Mid-range
Good all-rounder.
With Mingus Septet, we introduce our new custom high mid-range driver, made from beryllium for its outstanding high efficiency, low resonance factor and faster transient response.
Finishes
Make it your own.
Mingus Septet now has more finishes, with a choice of tops and bottoms in solid wood or high gloss lacquer colours: black, dark grey, gold, red and plum.
Feet
Stand and deliver.
Marten Isolators reduce distortion and resonance by isolating the speaker from the supporting surface. Better for the soundstage, with natural openness and clarity. Designed with IsoAcoustics. 
Tweeter
Mid-range
Finishes
Feet
Mingus

Septet

The latest Mingus model is a 4-way, with seven drivers, including a new custom 1" diamond tweeter and a new custom 3" pure beryllium high midrange driver. New for 2023