What you get
Control in the driver's seat.
Oscar Duo meets the demand for a reasonably-priced Marten speaker, without sacrifice to our renowned sound and quality. To achieve this we re-designed the build and created a bespoke driver.
The build offers exceptionally controlled and natural sound; true musicality that is the mark of a Marten speaker.
Custom designed drivers
True Marten sound
2-way
Competitive price-point
Ceramic domes
Advanced technology for natural sound.
To keep the same Marten sound we designed brand new drivers, allowing more control of the details.
Hard ceramic is light, yet extremely rigid, making it one of the best materials for speaker membranes – it's also known as Sapphire. 
Our ceramic domes have a high internal damping factor, because of a refined electrochemical process. The membrane also has a high material resonance frequency, meaning distortion is minimal; offering a level of clarity that is the holy grail for high end speaker domes.

Cabinets
Streamlined with precision.
The exterior is an exercise in minimalist design – no unnecessary details; no embellishment. Marten cabinet design is a balance of strength and elegance: the perfect compliment to the sound.
The optional magnetic cover snaps on with a satisfying click, instantly streamlining the form without changing the sound.
Internal wiring
Premium cables for purer sound.
We use Jorma Design internal wiring, for its exemplary quality and performance. Handmade in Sweden, the cables use separate + and – for enhanced shielding and the highest quality Copper.
This offers natural, transparent sound; the perfect choice for our speakers.
Cables are integral components, so they must work harmoniously with our precision design and build. Jorma Design delivers exactly what a Marten speaker demands.
Stand
Tailor-made for minimalism.
To ensure the stand would work perfectly with Oscar Duo, we designed it ourselves – with as much consideration to resonance, as to form.
It had to be rigid enough to deal with vibrations, but also look good. After many iterations, we settled on a triple pillar design: making the overall appearance lighter, while keeping it stable.
Dimensions
28 x 65.75 x 40cm (11 x 25.9 x 15.7″)
FEET
Levels of isolation
By reducing contact with the supporting surface, spikes are a tried-and-tested method for stand speakers.
Dimensions
2.5cm (1″)
Crossover
Low order for
high dynamics.
We prefer to use lower order crossovers, as the higher order crossovers tend to limit the dynamics and details. Our second order crossover has been creatively designed to make the best of the dynamic range.
Copper foil air core coils
Silver/Gold capacitors
Supreme resistors
Jorma internal cabling
Terry Ellis | Pursuit Perfect System
Finishes
High finish laminated cabinets.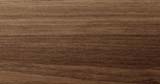 Matte Walnut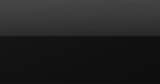 Piano Black
Piano White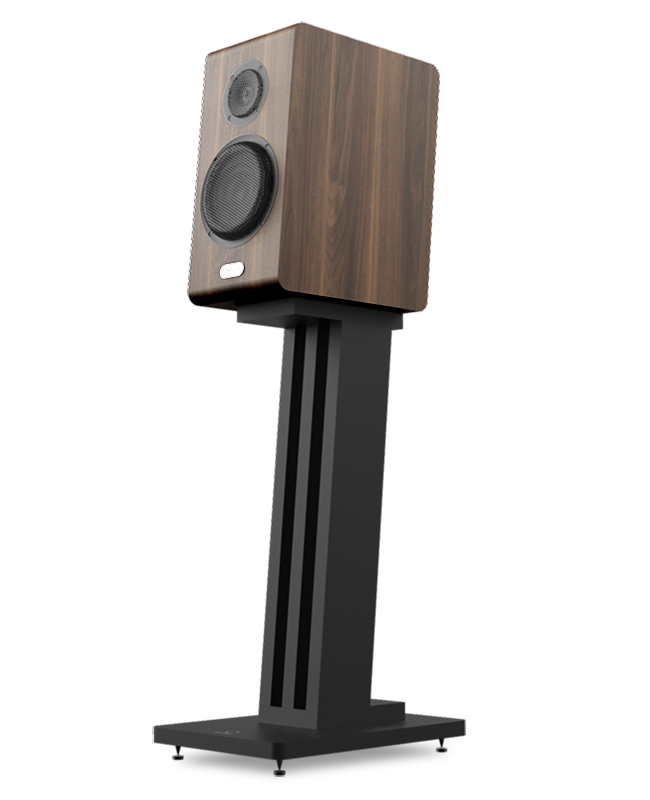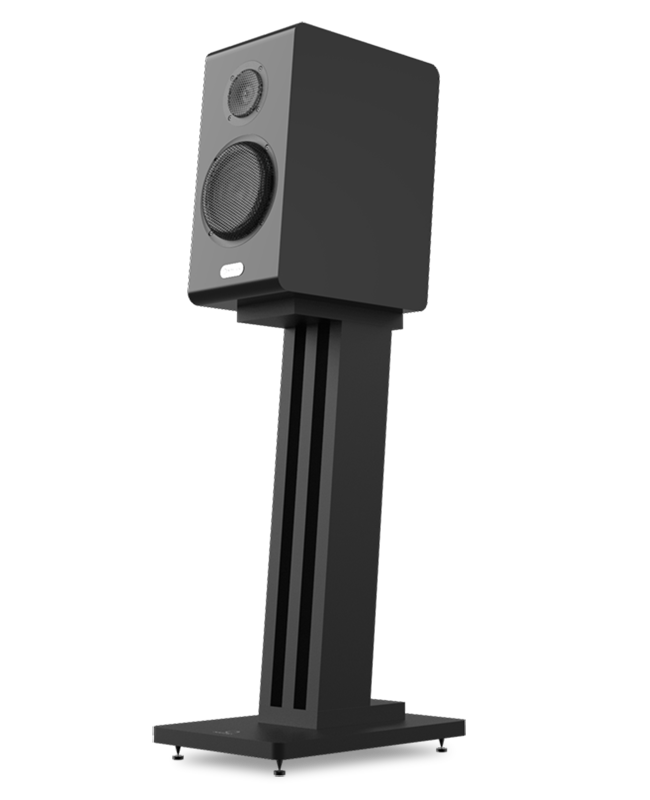 Speaker (front)
1 x 1″ Ceramic
1 x 7″ Ceramic
Frequency range
37-20000 Hz +-3dB
Power rating
150 W
Sensitivity
86 dB / 1 m / 2.83V
Impedance
6 ohm (3.1 Ohm min)
Type
2-way
Crossover frequency
Second order 2500 Hz
Terminals
Single-wiring WBT Nextgen
Internal wiring
Jorma Design
Cabinet
25 mm fibre laminate Matte Walnut, Piano Black or White
Dimensions W x H x D
20 x 40 x 32 cm (7.9 x 15.7 x 12.6")
Stand
28 x 65.75 x 40cm (11 x 25.9 x 15.7")
Spikes
2.5cm (1")
Net weight
13 Kg (29 lbs)