Meeting a Mingus Orchestra owner
One of the great pleasures of our business is to meet our clients. Two weekends ago, our CEO Jörgen Olofsson met long-time client, Uros at the Hi-Files Show in Belgrade.
Uros has been a Marten client for a number of years and is a self-confessed "lifelong music lover". This year, he upgraded from Coltrane 3 to Mingus Orchestra, and his current system is something to behold. We were so interested in his journey that we decided to interview him.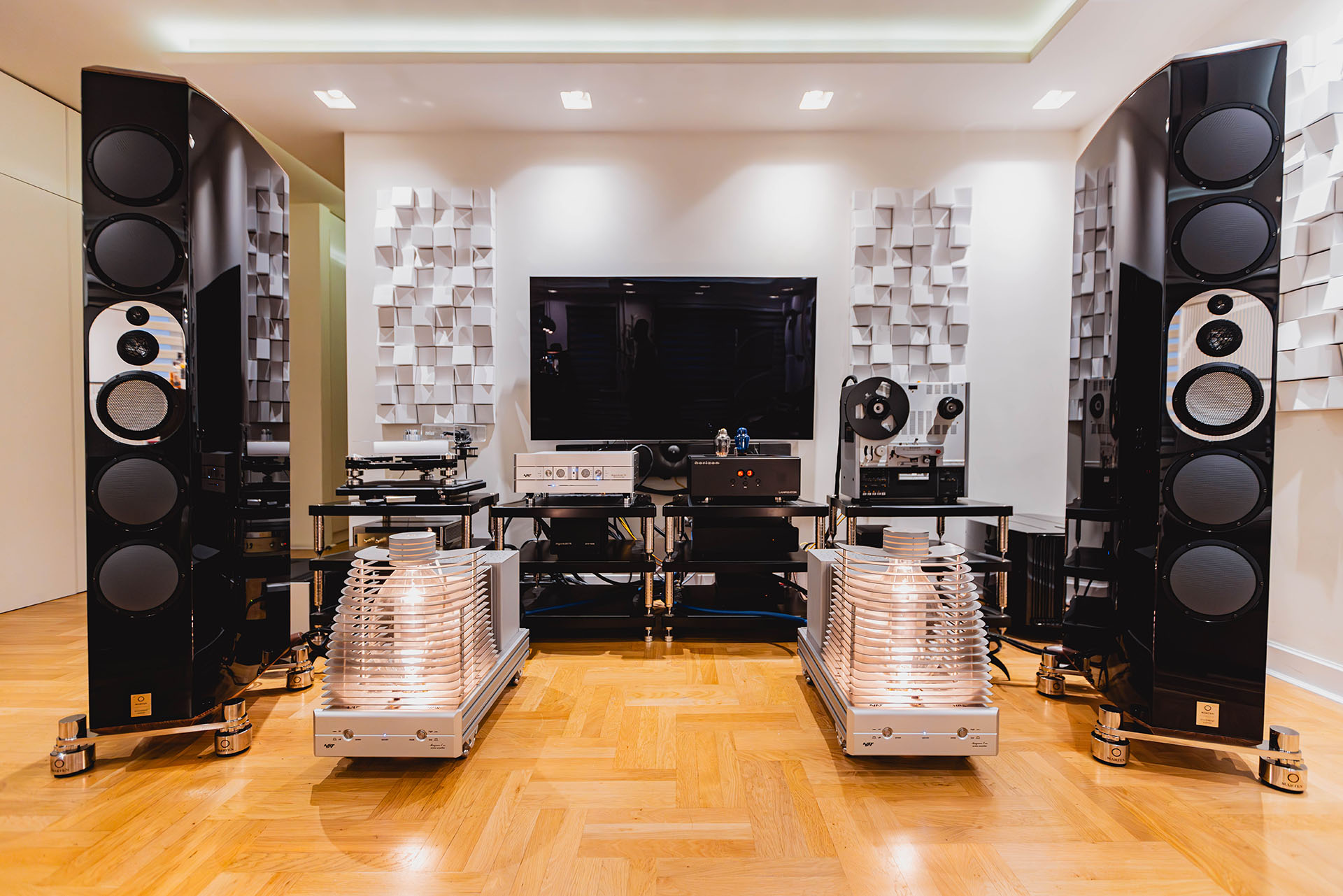 What is your earliest memory of listening to music?
That is a very interesting question indeed. It was my dad's system — Heco speakers, Pioneer front-end and a Sony turntable. From a very early age, in my pre-teens, I remember fiddling with the tone controls, discovering my dad's music — AC/DC, Carlos Santana, Johnny Cash, etc. — and being captivated by the sound. That Sony turntable was as much a part of my childhood as my basketball was or my painting kit.
How long have you been interested in high end audio?
Being a boy in Serbia, we went through some very tough times. I had the fortune of being enrolled in a high school program in the US. The first speakers I ever bought were the Bose 901 speakers (thank you Best Buy in Saginaw, Michigan!), and I guess that's a natural extension from being captivated by my dad's hi-fi system back in the day. To me at the time that was some serious hi end audio. That was back in 1994.
When did you buy your first Marten speaker?
I owned a great number of speakers before acquiring my first Marten speaker. Marten came recommended by several of my friends with similar tastes in music. I bought the Marten Mingus Quintet and instantly fell in love with the brand.
Why did you upgrade from Coltrane 3 to Mingus Orchestra?
Having learned a lot about speaker design over the years and having heard the Orchestra several times at different hi-fi shows, it just seems like a natural progression in the journey. In hi end audio, I have a theory that you shouldn't ever make side steps but only steps forward in building your system. Clearly no one wants to take a step backwards, but a side step is the most dangerous one. Just by virtue of something being different (and not better), people tend to be excited and ready to take the plunge. No bueno. When you're making the switch make sure you are taking a step forward. Orchestra, subjectively and objectively, felt like a step forward.
What features or qualities of Mingus Orchestra do you appreciate in terms of sound quality, design, or functionality?
The Orchestra is, the way I see it, the next logical advancement in speaker design over the Coltrane 3. The most obvious advantage is the 4-way approach— the 2" Accuton diamond midrange paired with the 0.75" diamond tweeter. Once you hear the exquisite presence and accuracy of the midrange, which naturally extends into the highs of the 0.75" tweeter — and the coherent nature of the tone — there is no going back. You are hooked. On top of that, in the bass department, the passive backfiring drivers are superior to any ported or sealed design I've come across. Paired with the 8" active drivers, they offer the natural extension but also the finer details in the bass. As well as the speed and that lightning quick "thump" when you need it. Music is as much about tone as it is about the sheer energy of the instruments. Another important note. I virtually cannot "hear" the cabinet when listening to music. Internal resonances and cabinet edge diffraction are almost nonexistent (to my ears). That is a tremendously rewarding aspect of this speaker.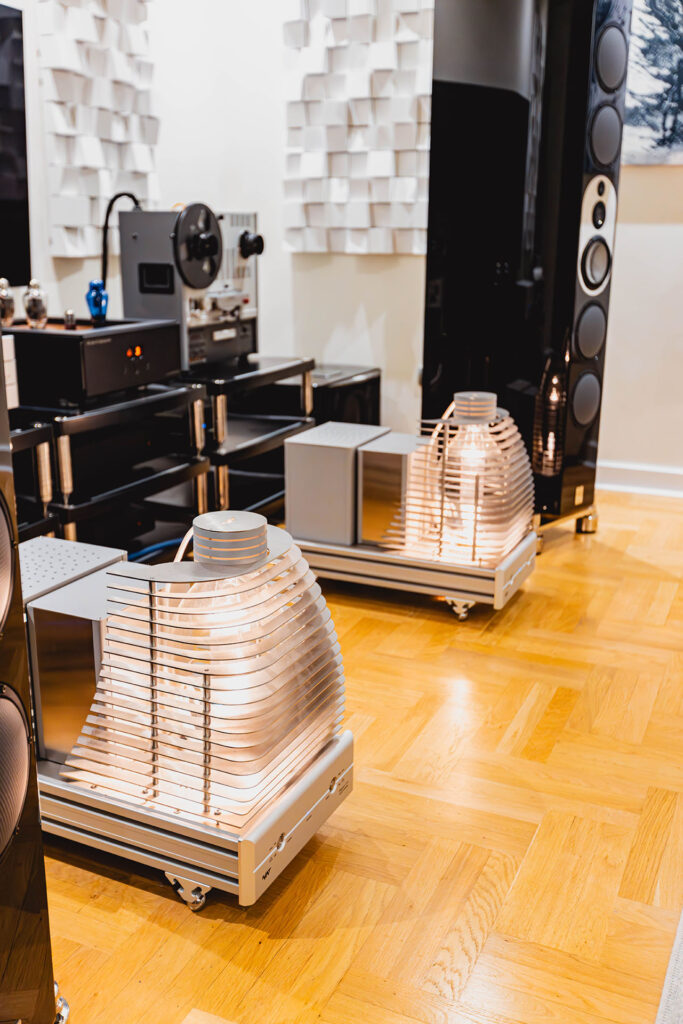 How has Mingus Orchestra integrated with your existing audio setup and room acoustics?
My room is well treated (by the Portuguese company Vicoustic), so no real issues in terms of RT60 (in the frequency range where RT60 matters). I was, however, worried about the bass, but it turns out the passive radiators behave very nicely in my room. I had issues with back-firing ported designs in my listening room. Turns out (thankfully) passive radiators are a different beast, and they integrated very smoothly into my listening room. I've done the measurements and there are no nasty energy build ups to speak of — both the SPL and the waterfall chart look very good.
As far as the integration with my current audio setup, the 2" Accuton midrange is extremely revealing. A simple bit of advice — if you hear that something is off, don't blame the driver. Look at what's causing the issue upstream. I know some may scoff at hearing this, but it's the truth. Or at least the truth as I see it.
Are there any genres of music that you prefer to listen to?
No genres as far as I am concerned. Only inspired and truthful music and shameful attempts to cater to the lowest common denominator. So good and bad music.
Are there specific tracks that you love listening to?
In my band, we have a virtuoso sax player who plays both the alt and the soprano sax (clarinet being his main instrument). I am captivated by the saxophone so I love listening to any tracks that have simple, dynamically unrestricted and honest recordings of the sax. Also, anything from Manu Katche. As a drummer, I am mesmerized by his play style. Eric Clapton's 12-string in the Lockdown Sessions, Rhiannon Giddens, Jennifer Warnes and Joan Armatrading in no particular order. Andrea Bocelli, Freddy Mercury, I could go on forever.
How does being a musician inform your listening?
Another excellent question. I have been playing drums since I was 13 years old. I am 47 years old now. So a long, long time. Drums are, acoustically, a very complex instrument. They possess the speed and power of tom-toms and the kick drum, but also the fragile balance of the snare drum, the hi-hat and the other cymbals. To that end, I am yet to hear a speaker driver reproduce a cymbal sound better than the diamonds.
The snare drum covers a wide range of octaves and is most prominent in the trickiest of frequencies. So if a snare sounds like you are hitting a thin plastic bag with an aluminum baseball bat, your speakers are too hot in the presence area (1000-4000hz), or there are phase shifts right where they shouldn't be. I hear that as a drummer. No drummer wants to hear that. I cannot recall the number of times I heard a speaker get that sound just plain wrong.
Furthermore, a Strat guitar played with overdrive has the sweet harmonics that you only may get from a tube preamp and a good guitar amp. It's extremely detailed and "outlined" for lack of a better word, but it's never harsh, let alone lacking musicality.
A violin has a pleasant zing in the strings that is contrasted (or better yet complemented) by its wooden body.
Often people who are not musicians mistake this notion of "romantic sound" for something that may be a goal in hi end audio. If our goal is to reproduce the sound of the instruments (human voice included), "romantic" in that context is just another word for distortion or coloration. As a musician, I want none of that. I want the accuracy and the inherent musicality of live instruments.
Marten speakers are designed by people who have been around instruments in their lives. I guess that's what got me instantly hooked on the brand in the first place.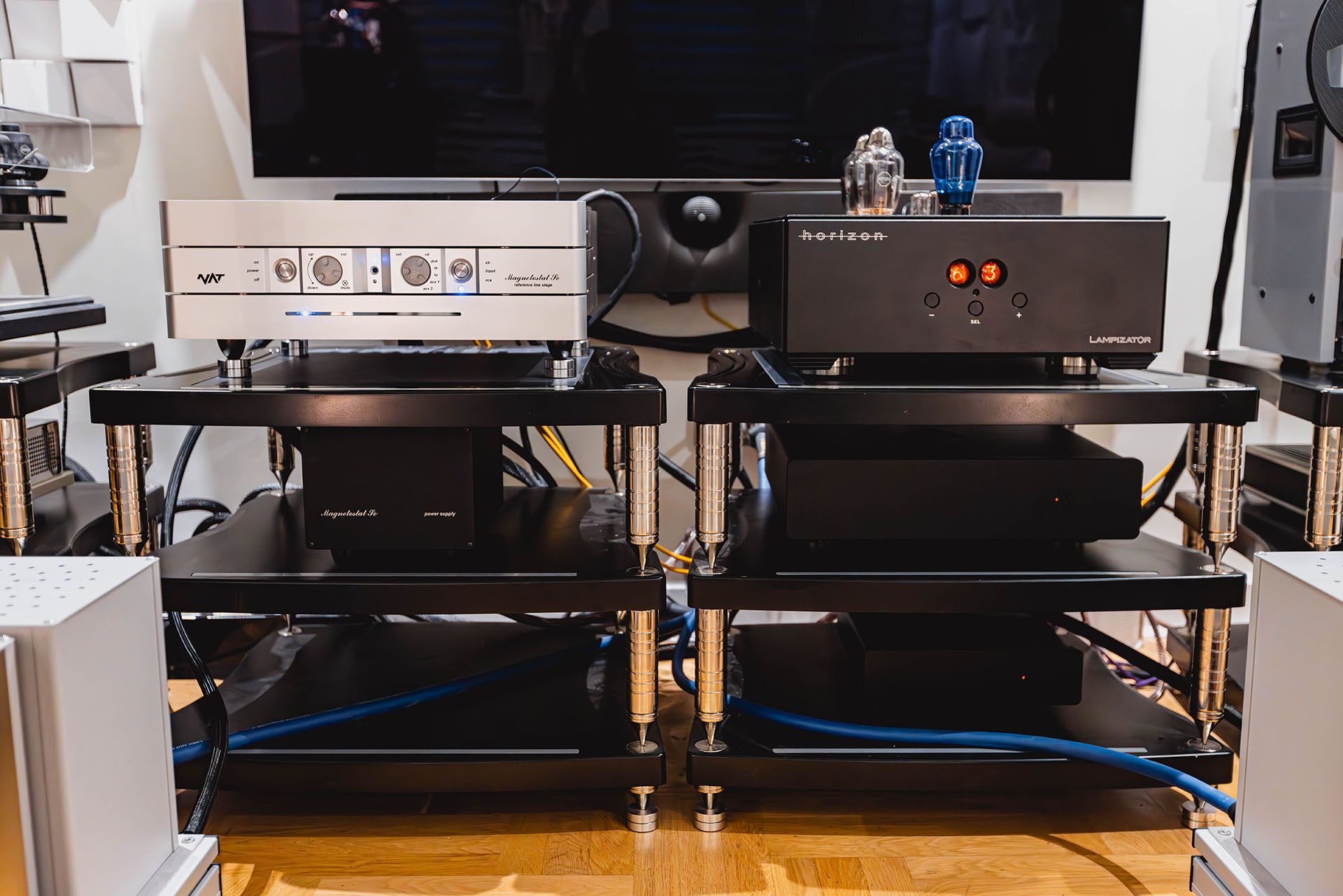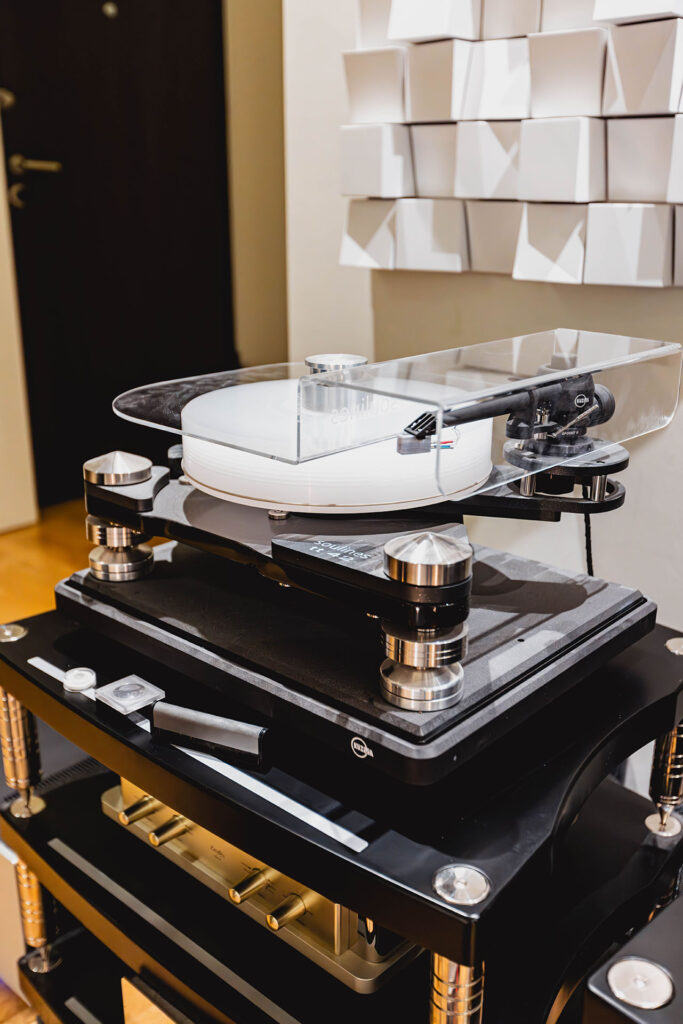 Can you tell us what electronics make up your system?
Certainly. I have the NAT Magnetostat SE preamp, paired with the NAT Magma Evolution mono blocks. Digital sources are the LDMS MiniMax music server and the Lampizator Horizon DAC. Soulines tt42 turntable with the Koetsu Blue Lace MC head, Kuzma 4P9 tonearm and the Zanden Signature phono. The reel to reel source consists of fully refurbished Studer A807 and 810 machines.
What's next for your system?
To answer this, I will try to paraphrase (badly) a local joke: "what does Spider-Man say when looking out on top of the ONLY skyscraper in the city? "Whoa, man, where do I go from here?!" I guess my point is I am hitting the limits of what I need and want to hear out of my music reproduction. So where DO I go from here!? 🙂
What advice would you give to audio enthusiasts that are starting out?
Do not get caught up in the "he said, she said". Do not get discouraged. You are in this for the love of music. Identify the sound in the hi fi world which makes you feel connected to that emotion and that is the system you want to own.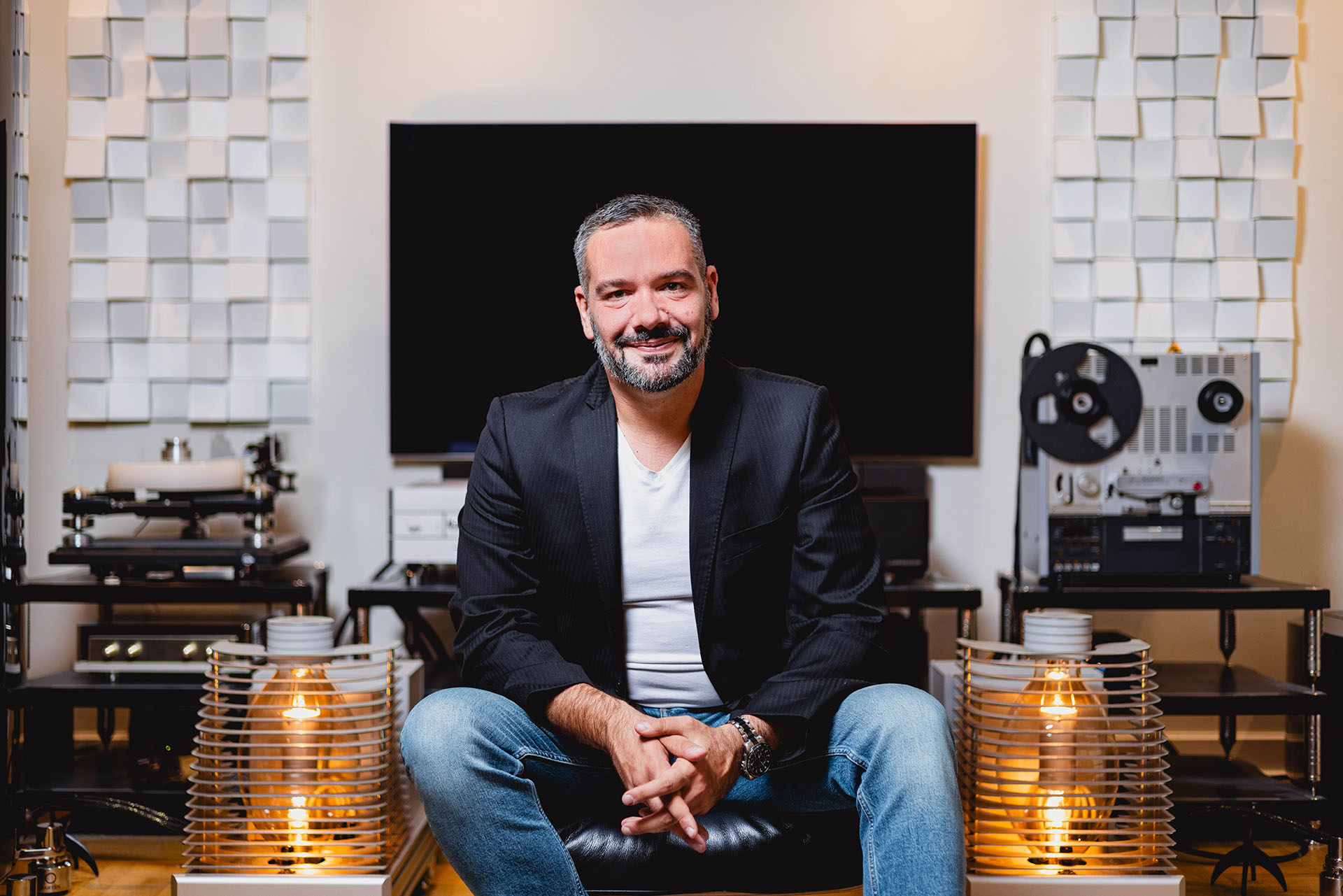 Uros is the CEO of a German tech company and lives in Belgrade, Serbia. To go on a deeper-dive, you can follow him at Whats Best Forum.
Images courtesy of Foto Mrvica